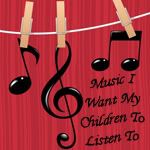 Ok been meaning to join this meme for a while but time got the better of me so for my first entry it's not only music I want D to listen to but without which he would not be here.
First time I saw the Voodoo Glow Skulls it must have been about 2001 at The Cockpit in Leeds. Lots of bouncy violence in the pit and it was actually where I met my best mate, Fluff, for the first time. He was crowd surfing, landed on my left shoulder and I might have given him a black eye at the time. Whoops. Although this did help when meeting the band in Glasgow later in the year when they remembered me. That was also my youngest sister's first pit (ahh the memories).
But if I hadn't met Fluff he wouldn't have introduced to R and therefore D would not exist so too right I want him to listen to VGS. That and just the fact they are awesome musically and personally. When we let them know that one of their albums had been screwed up by the manufacturer (clip art instead of music on the disc) they put us in touch with their record label who pulled the dodgy discs from Amazon and sent us a complimentary copy of the CD, a Punk-O_Rama 10 DVD and a few other bits and bobs to boot.
So there's my first entry and you should go over to GhostWriterMummy's blog and check out some of the other entries as well as having a listen to some VGS below.